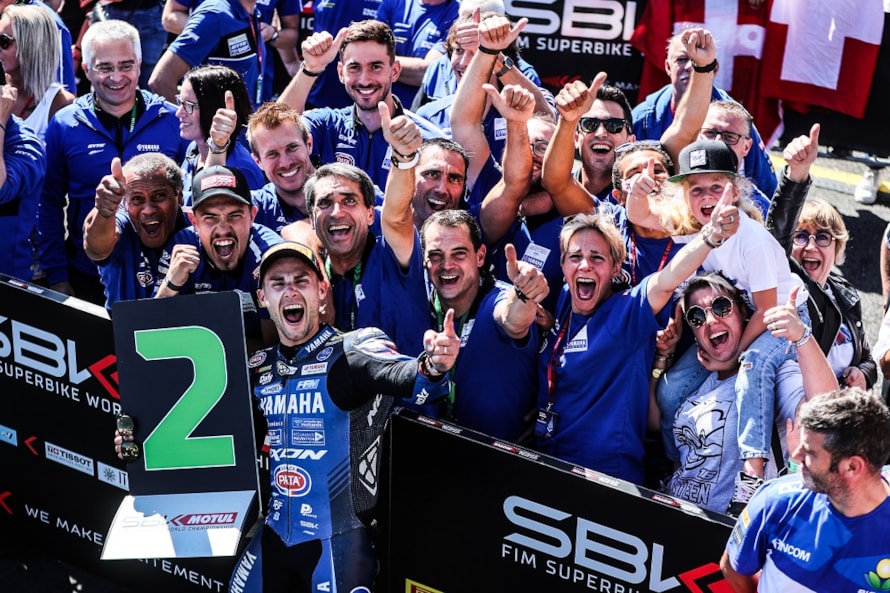 Sunday 12th September was a special day for Jules Cluzel. Indeed, it was his last race in France. The GMT94 rider announced before this race weekend that 2022 would be his last year in motorbike racing.
Starting from 10th place on the grid, Jules took off in a superb manner. With a series of fast laps, the rider of the #16 Yamaha R6 quickly climbed to 3rd place. He crossed the line in 2nd place, following the fall of a competitor. A magnificent reward, received for his first weekend following his injury last July.
Valentin Debise also had a fantastic race. 15th on the grid, Valentin overtook his competitors one by one to finish 4th. Without a clutch problem in qualifying, Valentin would undoubtedly have been in contention for the podium.
After an interesting qualification, Andy started 9th. He finished 13th in race 2.
The GMT94 Yamaha team had a fantastic weekend, especially thanks to the 2000 team supporters who took place in the "Club Gmt94" stand and elsewhere on the circuit. A real GMT94 tide that gave goose bumps to each of its riders. The team saw 500 visits to the boxes, 100 visits to the trucks, 150 people for a tour of the circuit with C.Guyot, and more than 1000 people present in front of the paddock show for the draw of the Grand Jeu Concours. A successful reunion after two years of health restrictions.
PP Tuning is a proud sponsor of the GMT94 team.