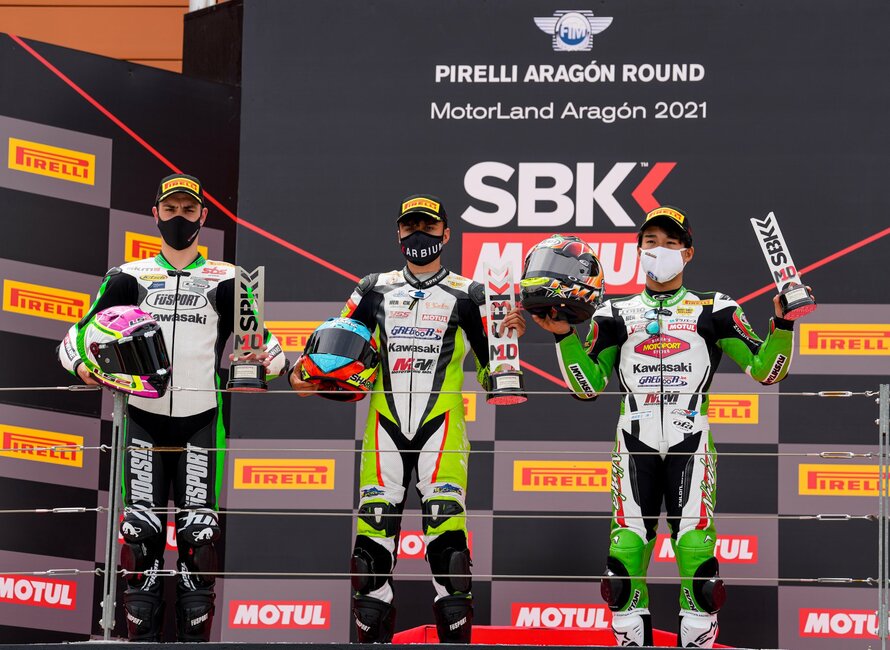 MTM Kawasaki can look back on a strong opening round of the World Supersport 300 season in Aragon. Adrián Huertas won his first ever race as a member of the team and finished third in the second race. Yuta Okaya also scored a podium. Dutchmen Jeffrey Buis and Koen Meuffels were not so lucky in the races.
The World Supersport 300 season started at Motorland Aragon. The MTM Kawasaki riders were all in good shape during free practice sessions on Friday. In Superpole qualifying Adrián Huertas left a very strong impression by almost taking his first pole position. The Spaniard qualified 0.004 seconds behind the pole in second place. Reigning world champion Jeffrey Buis ended in eighth place. Yuta Okaya and Koen Meuffels qualified in eleventh and sixteenth place for the races in Aragon.
In the first race there was a big leading group including the four MTM Kawasaki riders. Huertas was riding at the front of the field a lot, but got a long lap penalty. Okaya also had to fight his way back into the group after a mistake. Three laps before the end both riders were back in front with Huertas in P1 and Okaya in P3 when the red flag came. There was no restart, allowing Huertas to win his first ever race for MTM Kawasaki. Okaya took his third career podium. Buis and Meuffels were also ready for an exciting battle in the final laps. Buis finished sixth and Meuffels eighth. In the end: a very strong start of the season for MTM Kawasaki.
In the second race, Meuffels had no luck at the start when he had to avoid a number of crashing riders. Later in the race, the Dutchman was hit again while he was moving forwards and his race was over. Huertas, Buis and Okaya were strongly represented in the leading group of twelve riders. In the last lap it was exciting until the last meter. Huertas finished third, scoring his second podium of the weekend. Okaya finished fourth and Buis was hit several times in the final laps, dropping back to twelfth position.
PP Tuning is a proud sponsor of the MTM Kawasaki MotoPort team.