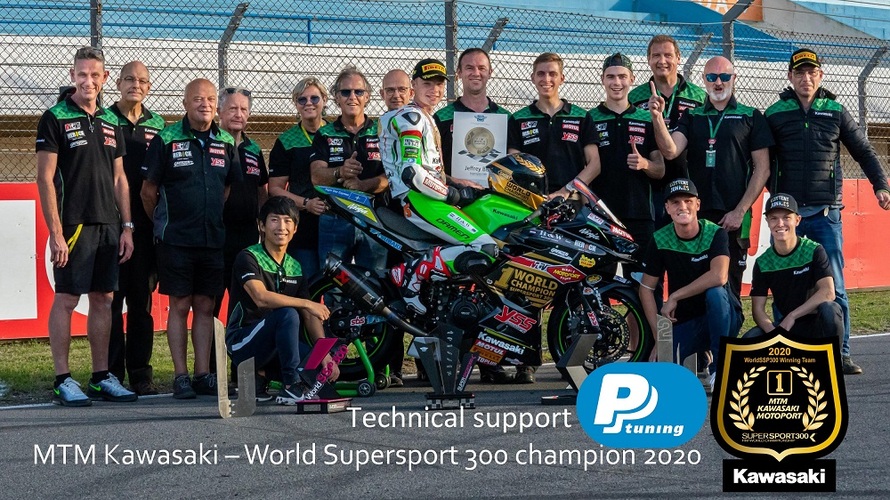 Jeffrey Buis became world champion at the Circuito do Estoril. The 18-year-old Dutchman laid the foundation for his world title with four victories and eight podium finishes in 2020. Buis started the final round of the season at the Circuito do Estoril with a lead of 28 points on his teammate Deroue. Both riders hadn't an easy time during the practice sessions. Deroue qualified eighteenth, one position ahead of Buis. Koen Meuffels and Yuta Okaya did a better job with a sixth and tenth lap time during the Superpole.
After the start of the first race there was a big leading group with fifteen riders. All four MTM Kawasaki MotoPort riders were in the group. Meuffels rode mostly at the front of the group and achieved his first podium of the season by finishing second. The gap to the winner was only 0.013 seconds. Behind Meuffels, the battle for the world title was decided. Buis was able to work his way up to sixth place in the closing stages and finished ahead of Deroue, who crossed the finish line in eighth. This result was enough for Buis to secure his world title. The 18-year-old rider became the youngest Dutch world champion in road racing; a fantastic achievement. The MTM Kawasaki MotoPort team concluded the 2020 season in a great way with the world title for teams and riders with Buis. Deroue ended as vice-world champion.
Jeffrey Buis: "I still can't believe it, but we are world champion! An indescribable feeling! It certainly wasn't an easy weekend, but we got where we came for. MTM Kawasaki MotoPort has built a fantastic bike this year and the support within the team is great. There are so many people who have supported me over the years. First to come to the World Championship and then to grow in this championship. I want to thank everyone for that, because otherwise I couldn't have come this far. In particular, I would like to thank my family and sponsors; this world title belongs to you too!"
PP Tuning is a proud sponsor of the MTM Kawasaki MotoPort team.