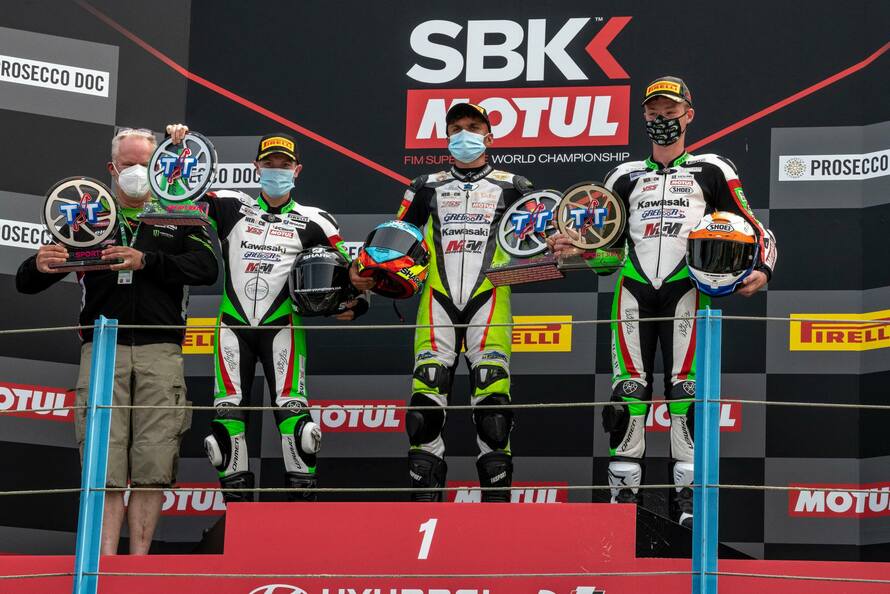 MTM Kawasaki achieved a great 1-2-3 with Adrián Huertas, Koen Meuffels and Jeffrey Buis at the team's home race in Assen. In the second race the MTM Kawasaki riders finished just outside the podium. Huertas consolidated his first place in the World Supersport 300 championship at the TT Circuit Assen.
The first race would become a great success for the MTM Kawasaki team. Buis, Huertas and Meuffels were constantly in the front of the leading group. Okaya had to start from the back of the grid after a technical problem. The Japanese rider rode a great race and passed a lot of competitors, but crashed when he reached sixth position. Huertas was the strongest on the final lap and won his third race of the season. The Spaniard won on three different tracks. The podium was completed by Meuffels and Buis. It meant the first podium for the Dutchies in 2021. This made a full MTM Kawasaki podium at the team's home race in Assen!
Buis was very strong during the second race. The Dutchman was in the lead for more than half of the laps. Buis and Huertas fought for the win. Buis finished second just before Huertas. Both riders received a two-place penalty after the race, as they were forced off the track twice on the green in the hectic final lap. Okaya also battled in the front group and ended in sixth place. Meuffels was hit in the early stages of the race by another rider, why he lost many places. Meuffels came back and with the fastest race lap he finished ninth.
After six races, Huertas leads the World Supersport 300 championship with 108 points. Okaya is fourth in the standings, one place ahead of Buis and three ahead of Meuffels. The next World Supersport 300 round will be held in Most from 6 to 8 August. The Czech circuit is new on the WorldSBK calendar.
PP Tuning is a proud sponsor of the MTM Kawasaki team.